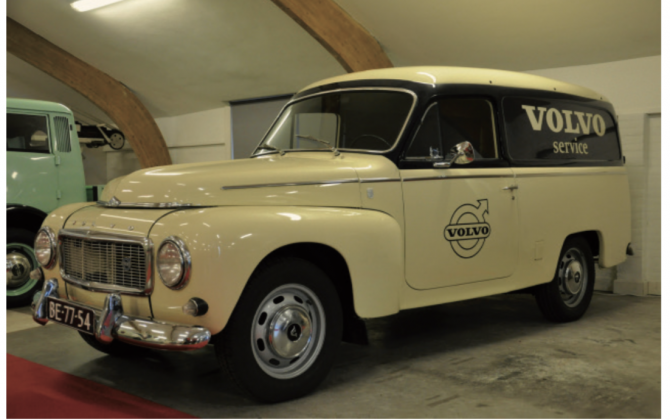 Although the station wagon and commercial versions of the Volvo PV444 and PV544 had a similar appearance to their saloon counter- parts, technologically speaking they couldn't have been more dif- ferent. The saloons with their famous rounded backsides (known in German as 'Buckelvolvo' and in Dutch as 'kattenrug' or 'cat's back') were of a unibody construction, while the station wagons and panel vans were based on a separate, sturdy ladder chassis with rear leaf springs. These versions were called the Duett, signifying their dual purpose: comfortable as a family car but also suitable as a delivery van.
Production of the Volvo Duett started in 1953. Its official type desig- nation was PV445, to distinguish it from the saloon version, the PV444. In 1960 the Duett was renamed P210 and got the same fea- tures as the PV544 saloon introduced two years earlier, such as a single-piece windscreen and a more modern dashboard.
This 1969 Volvo P210 panel van is one of the last ever made, since production ceased that year. Production of the PV544 saloon had ended four years earlier.
Engine
1.8 litre four-cylinder
Power output
75hp (B18)
Load capacity
550kg
Special details
One of the last built Duett/P210s